Custom Ramp Sinks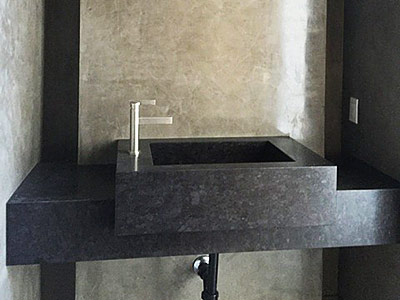 No longer are bathroom and washroom spaces considered to be strictly utilitarian areas that don't need any major designing attention. Most property owners want these spaces to be designed with as much attention to detail as any other room in their home or commercial establishment. When you are considering various sink options, and conduct a bit of research online you will find a variety of sinks made from materials ranging from ceramic and porcelain to glass, acrylic and natural stone.

Concrete sinks have now become the latest bathroom design trend and even luxury homes, resorts and hotels are sporting them. But these aren't necessarily standard square or round concrete sinks; the latest trend in this space are custom ramp sinks. We at Walls n Effects have handled custom ramp sink installations for a number of satisfied customers in and around Corona Del Mar, Corona, Laguna Beach, Costa Mesa, and Coto De Caza.

Over the years, we have catered to clients across Yorba Linda, Dana Point, Irvine, Fullerton, La Habra as well as Huntington Beach. Our company has also successfully completed projects in Laguna Hills, Laguna Niguel, Lake Forest and the surrounding areas as well.


What Is A Custom Ramps Sink?
As the name implies, this sink that has an inclined base; these are somewhat like troughs and the water flows straight down the ramp/incline into an almost unnoticeable slot that's integrated with a grid drain assembly made of stainless steel. These sinks are suitable for residential and commercial applications and you can use them for multiple faucet configurations; they could be attached to a single elongated sink basin or even a feature that has multiple basins.


Custom Concrete Ramp Sinks - Different Angled Slopes
Since we fabricate these sinks especially for your setting, you get to choose the shape and style of sink you want. Aside from this, you can also decide what slope the ramp should be; the different types you can choose from are:


Back ramps
Side ramps
Front ramps
Center ramps

You can also choose from different colors and the countertop area and faucets placement will be as per your specifications. The ramp-style concrete sink directs the flow of water into an out-of-sight slot drain and there is no visible hardware in the installation. Not only do these sinks look stunning and make a style statement, they are also extremely easy to clean and maintain. Since they have a sloping base or edges, there is no pooling of water and so no water stains build up on the surfaces.

With the years of experience we have behind us, we know what it takes to create stunning concrete ramp sinks for your home or commercial establishment. When you hire us for designing and installing these features you are assured of the best services at all times at very competitive custom ramp sink cost. To get started on your project, simply call us at this number - 714-936-0066 7 or connect with us via this online form and we will connect with you shortly.


Click on the images below to view a larger display.


Photo 1

Photo 2

Photo 3

Photo 4

Photo 5

Photo 6