Custom Concrete Fire Pit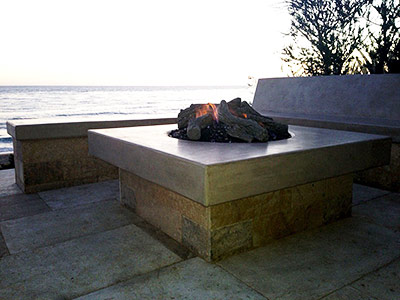 Fire features are quite an intrinsic part of landscapes and most homeowners like to get either a fireplace or fire pit installed in their home or landscaping. While the weather in California doesn't really reach freezing temperatures at any point of the year, it's great to have the warmth and comfort of a crackling fire when there is a nip in the air.

We at Walls n Effects have a number of satisfied customers in and around Corona Del Mar, Corona, Laguna Beach, Costa Mesa, and Coto De Caza. Over the years, we have catered to clients across Yorba Linda, Dana Point, Irvine, Fullerton, La Habra as well as Huntington Beach. Our company has also successfully completed fire pit installation projects in Laguna Hills, Laguna Niguel, Lake Forest and the surrounding areas as well.


Why Opt For A Concrete Fire Pit?
Some people try to use portable fire pits in their yards, but soon find that they are not as convenient or safe as they thought them to be. They can be unstable and can get knocked over if a football hits them, or if someone accidently bumps in to it. It's much safer to opt for a custom outdoor fire pit.
While some people prefer fireplace installations, many choose compact concrete fire pits. A fireplace is a much larger structure and it can also block the view of the surroundings. So, if you have a more compact sized yard and still want a fire feature installed, a fire pit becomes an excellent choice instead.
We can build an outdoor fire pit based on your specific needs and the installation can be added to any section of your yard, deck or patio space. We have also installed fire pits in outdoor kitchens on our customers' properties.
Concrete Fire Pit Design Concepts
We understand that every homeowner will have different requirements and it's why we focus on customization. If you have a view lot, a fire pit is an excellent installation choice for your deck or patio space. It gives you an unhindered view of the indoors as well as outdoor spaces, even as you enjoy some leisurely moments with your family and friends.


We discuss the concrete fire pit design with you in great detail and understand where you want the installation to be. Care will be taken to ensure that the feature is installed a distance away from high traffic areas.
Prevailing wind directions will be taken into consideration.
Since the fire pit is specially designed for your property, you have the flexibility to choose the shape and size of the installation.
We also focus on using authentic brick veneer on the inside and will also use fire-proof grouting. This is a very crucial aspect of building a fire pit; having just a concrete installation can be hazardous as the cinderblock or the aggregate in the concrete can overheat and explode.

As you can see, we are very meticulous and thorough in our approach to the work. When you hire us for designing and installing a custom fire pit you are assured of the best services at all times. To get started on your project, simply call us at this number - 714-936-0066 7 or connect with us via this online form and we will connect with you shortly.


Click on the images below to view a larger display.


Custom Concrete Fire Pit 1

Custom Concrete Fire Pit 2

Custom Concrete Fire Pit 3

Custom Concrete Fire Pit 4

Custom Concrete Fire Pit 5

Custom Concrete Fire Pit 6