Custom Concrete Tables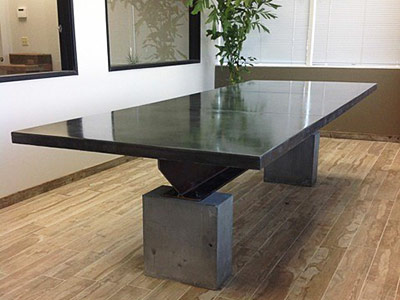 Creating unique interior spaces is about choosing features, installations and materials with care and getting these areas and the elements in them designed by experts. Today, many interior designers and home planners recommend the use of custom concrete tables. These are used in residential as well as commercial spaces and are ideal for dining rooms, kitchens, living rooms as well as outdoor spaces.

On commercial properties too they could be used in outdoor restaurant areas, poolscapes, patio bars, spas and more. While these installations look stunning in all these settings, it's crucial that you hire expert concrete table installers for the job. We at Walls n Effects have a number of satisfied customers in and around Corona Del Mar, Corona, Laguna Beach, Costa Mesa, and Coto De Caza. Over the years, we have catered to clients across Yorba Linda, Dana Point, Irvine, Fullerton, La Habra as well as Huntington Beach.

Our company has also successfully completed projects in Laguna Hills, Laguna Niguel, Lake Forest and the surrounding areas as well. We have highly skilled artisans on board that use time-tested materials and techniques to create superb indoor and outdoor concrete tables.


Why Choose Custom Concrete Tables?
We do provide some standard sizes, but in most instances have found that customized sizes and shapes work best for our customers. There are a number of things we focus on when designing and crafting concrete and aggregate tables:


The best materials are used in the work
All the tables are handcrafted and polished to perfection
Care is taken to ensure that the design and styling of these features match that of the rest of the elements in the space
You can choose from various colors and hues and this adds to the uniqueness of the piece.
We know that many people feel that concrete tables are very heavy; however this isn't the case. Our concrete tabletops are generally 1 inch thick throughout. In some designs (as per client requirements), there could be thicker aprons (built-up edges). These give the table a much thicker and solid appearance, without being too heavy.
Concrete tables complement outdoor furniture very well and you can pair these with wicker, metal, wood or plastic chairs too.
If you like, we can create extraordinarily creative and quirky, contemporary, funky, sleek, formal or casual concrete table designs.
No matter of the styling and shape of table you choose, it will have some type of and reinforcement; this ensures it will last for a very long time. In fact, the reinforcement also reduces the weight of the piece which makes using it far more enjoyable.

Regardless of whether you want a concrete dining table, a concrete kitchen island table or one for your alfresco space, we have the solution for you. When you hire us for designing and installing concrete tables, you are assured of the best services at all times. To get started on your project, simply call us at this number - 714-936-0066 7 or connect with us via this online form and we will connect with you shortly.


Click on the images below to view a larger display.


Photo 1

Photo 2

Photo 3