Custom Concrete Counter Tops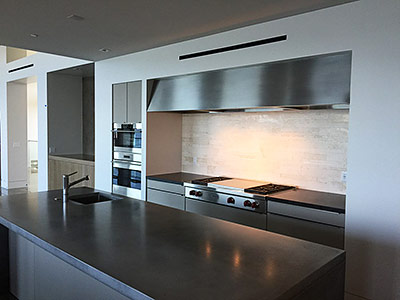 Current day property owners are always on the lookout for unique materials and features to install in their homes and commercial spaces. A homeowner's objective is to create stylish and elegant interior areas that will be a pleasure to live in. Commercial property owners want to ensure that their place of business is designed in a comfortable and functional manner and that it exudes the brand image they to portray.

With this in view, it's no surprise that both commercial and residential property owners are veering towards customized features made of concrete. This material has come a long way from where it was up until 5 years ago. It has shed its boring and drab image and new technology has ensured that it can be used creatively and to stunning effect in outdoor and indoor settings. Custom concrete countertops are increasingly being used in modern styled interior concepts.

We at Walls n Effects have a number of satisfied customers in and around Corona Del Mar, Corona, Laguna Beach, Costa Mesa, and Coto De Caza. Over the years, we have catered to clients across Yorba Linda, Dana Point, Irvine, Fullerton, La Habra as well as Huntington Beach. Our company has also successfully completed projects in Laguna Hills, Laguna Niguel, Lake Forest and the surrounding areas as well.


Why Choose Custom Design Concrete Countertops?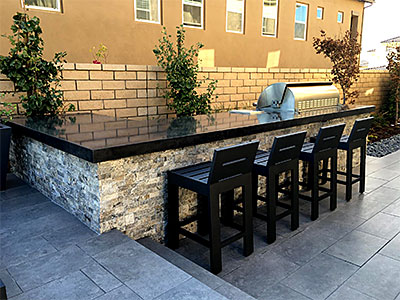 While you may find standardized concrete countertop designs, these may not always match your requirements. We understand that every space is different and that every property owner has different ideas and preferences. This is why we work closely with you to provide customized countertop solutions; some distinct features and benefits of these are:


They look contemporary and sleek and are ideal for modern-styled homes.
We also custom create colors and finishes for more traditionally styled interior spaces.
Since they are handcrafted pieces, they look stunning and unique and enhance the ambience of any home, office or retail establishment.
Concrete is a high-strength and versatile material and lends itself beautifully to various styles.
It's resilient and long-lasting and requires very basic maintenance.
While the design and installation of residential custom concrete counters isn't very cheap, the benefits sure make it worth every penny you spend on them.
Why Choose Us For Your Custom Concrete Counter Top Requirements?
We are a company that goes the extra mile to provide customers the kind of solutions that are right in line with their needs.


We work closely with homeowners, designers and builders as well as interior decorators and contractors and have years of experience working in this industry.
Every custom concrete product we manufacture is hand-built in our workshop and we have complete control over the quality of the product.
High grade custom batches of concrete and aggregates are used which give every piece a unique texture and color which adds to the individualistic appearance of the installation.
We use time-tested craftsmanship, the latest technology and maintain very competitive custom concrete countertop cost, all of which provide our customers value for money.

When you hire us for designing and installing custom concrete countertops you are assured of the best services at all times. To get started on your project, simply call us at this number - 714-936-0066 or connect with us via this online form and we will connect with you shortly.


Click on the images below to view a larger display.


Photo 1

Photo 2

Photo 3