Board Form Concrete Tile
Concrete is a very modern-looking material. It is stark, clean, and lends an urban/industrial feel if used correctly. That's one of the reasons why many modern designers and architects use this material liberally in their projects. Board form concrete has the most visual impact and can make a space look both chic and organic at the same time. At Walls n Effects, we provide a wide range of board form concrete products.

We have worked designers, architects, and homeowners in places like Corona Del Mar, Costa Mesa, Fullerton, Huntington Beach, Irvine, La Habra, Mission Viejo, Newport Beach, Santa Ana, Rancho Santa Margarita, and the surrounding areas. Our clients have been satisfied with the finish and appearance of our products.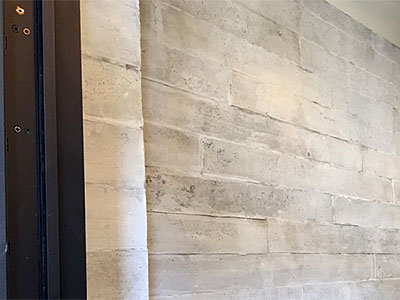 What is Board Form Concrete?
Before plastic and metal, wood was the common material for pre-cast or cast-in-place concrete walls. The forming frame was made from un-sanded and unpolished wood, which meant the concrete took on the wood grain texture as it cured. This finish texture was considered the natural consequence of using wood, but it wasn't a deliberate design choice.

Times have changed and this surface texture is now known has board form concrete finish. The finish has become very popular over the recent years because it beautifully marries the organic texture and feel of wood with the convenience and durability of concrete. The grain design softens the concrete while still retaining the modern, edgy aesthetic.


Board Form Veneers, Tiles, and Panels
As mentioned before board form concrete is available in pre-cast and cast-in-place varieties. Cast-in-place concrete walls are created on site through a complicated set-up process. The installers lay down a foundation, create a metal frame, install a wood form, and then pour concrete into the mould. The material cures in place and takes on the wood-like texture from the form. This process is expensive, time-consuming, and somewhat inflexible.

Veneers, panels, and tiles are a great alternative to cast-in-place concrete installations. They're pre-cast and can be installed on existing structures without must effort. Here's a look at the different ways in which these products can be used:


Board Form Veneer - Veneers are thin, flat, and light-weight pieces of concrete that can be used as decorative cladding for walls. Board form concrete veneers have that characteristic wood-grain design but in a smaller, more manageable form. You can place them on existing walls to get the desired finish. They can be used on exterior and interior walls like concrete fences, house sidings, retaining walls, etc.


Board Form Concrete Tiles - Tiles can be used in kitchens, bathrooms, interior walls, and other such places to get that cool but organic wood grain effect in concrete. Tiles are available in different sizes, shapes, and designs, which makes them a versatile material to use.


Board Form Concrete Cladding - Cladding is a cover similar to veneers and tiles, but they are often used to cover insulation systems. It's difficult to add insulation to board form concrete cast-in-place walls because they're a solid block of material. In cladding systems, the insulation material sits between the primary wall and the concrete cladding.


As you can see, these materials are very versatile, and they are more flexible compared to traditional cast-in-place concrete. They can be used on feature walls, fireplaces, backsplashes, showers, accent sections, and other such areas of your property.


What are the Advantages of Board Form Concrete Veneers?
There are many advantages that make board form concrete veneers worthwhile. Aside from being flexible and easy to use, they offer the benefits mentioned below:


No Need for Additional Support - If you install these veneers on a sturdy, well-constructed wall, there's no need for any additional support. You won't have to go through the process of installing a new framework, foundation, and other such structures.


Consistency - These tiles provide a uniform design that maintains a clean aesthetic. The finish and quality are both consistent throughout the installation, which ensures there's no disruption in performance.


Cost and Time Savings - Veneer installation requires less material, labor, and time, which means it is cheaper and faster to install. Instead of creating a framework, foundation, and pouring it liquid concrete, installers just apply the veneers onto the structure and let it set for a few days. Installers don't need any specialty tools or techniques so they can place it on the wall as they would a regular stone or brick veneer.


Repair and Maintenance - One of the biggest advantages of board form concrete veneers is the ease of repair and maintenance. You can replace damaged tiles, clean and refinish the veneers, and extend the installation's lifespan.


With board form concrete veneers, you get the best of both worlds. The walls will have the look and feel of solid concrete and the flexibility of tiles.


Why Choose Our Timber-Effect 'Shuttered Concrete' Panels?
Board form concrete tiles have become very popular in the recent years. There are many businesses offering different kinds of veneers with the same finish. Here's a look at what makes us stand apart from other products available in the market:


Designer Board Form Concrete - We offer custom finishes and colors so you can choose a product that fits in perfectly with your property's architecture. We use specific types of sandblasted wood with beautiful grain patterns while creating our products. For example, our Douglas Fir timber-effect "shuttered concrete" panel has clear and highly visible grain pattern.


Custom Sizes - Veneers of different sizes offer different finishes, which is why most designers choose sizes of the tiles carefully. We have specific sizes of up to 96" long and 12" wide. You can choose 6", 7.65"x96", or smaller sizes based on your preference.


Each veneer is fiber reinforced and is of reasonable thickness while still remaining light-weight. We create every tile according to your specific preferences in size, shape, and color.

If you want to know more about our board form concrete products and related services here at Walls n Effects, don't hesitate to call at 714 936 0066 or get in touch through our contact us form.


Click on the images below to view a larger display.


Board Form Concrete Tile

Board Form Concrete Tile

Board Form Concrete Tile

Board Form Concrete Tile

Board Form Concrete Tile

Board Form Concrete Tile

Board Form Concrete Tile

Board Form Concrete Tile

Board Form Concrete Tile

Board Form Concrete Tile

Board Form Concrete Tile

Board Form Concrete Tile