Custom Concrete Fire Pits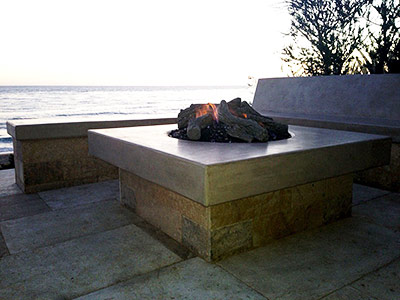 One of the best ways to improve your outdoor living experience is to install fire features in strategic spots in your property. Since these features provide comfort and warmth, staying outdoors during cold days and nights is always possible. These are also great spots for outdoor activities with friends, family bonding, and relaxation. Among the fire features that you should have is the fire pit. Most property owners choose this fire amenity for its outstanding benefits and qualities. For one, it is cheaper to install compared to outdoor fireplaces. Design flexibility is another reason why it is a common landscape element in California homes. But don't just opt for the pre-built ones that can be bought from home improvement centers. Instead, choose custom concrete fire pits.

You can have one-of-a-kind custom concrete fire pits by choosing a company that specializes in custom concrete works. If you're from CA, a local company that you should contact for this kind of project is Walls n Effects. Our company has the capability to create customized concrete fire features. Our designs are unique and based on the needs of our client. We also consider the current landscape setting and other existing outdoor features. With us, you are assured of long-lasting fire pits that can withstand harsh outdoor elements and constant use. Excellent installation is also guaranteed since the project is handled by our seasoned crews. We're confident that you will become one of our highly satisfied clients once we're done with our work. Don't think twice about hiring us for your outdoor improvement project. We have already installed countless fire amenities for clients in Costa Mesa, Huntington Beach, Orange, Laguna Niguel, Newport Beach, San Clemente, Mission Viejo, Irvine, Fullerton, and Placentia, CA. You may call us at (714) 936-0066 or drop by at our office so we can discuss further the details of your fire feature project.


Installation of Custom Concrete Fire Pits
The great thing about concrete fire pit is that it can be designed according to your desired style or type. You may choose the traditional fire pit design if you prefer its classic look or opt for the portable type, which is easy to install. The portable fire pit is best installed in patios, pool decks, and other outdoor living areas.

When installed in strategic spots, your custom concrete fire pits can become focal features in your property. Professional builders know the perfect fire pit style for your outdoors. They may deviate from the traditional shapes such as round and square to achieve unique fire features for their clients. Concrete is an extremely durable material and won't require frequent maintenance effort. These are just some of the reasons why it is a highly recommended material for fire feature installation projects.


Concrete Fire Pit Accessories
Don't forget to complete your fire pit setup by installing vital accessories such as covers, screens, stands, and fire pit pads. These accessories will not only improve safety around the fire pit but also protect it from harsh environmental elements. Meanwhile, starting a fire will be an easy task if you have log racks, wood carriers, and fireside tools near this fire feature. You can also make the area a more inviting spot to stay at by having grilling and skewer sets, side tables, drink holders, and other outdoor furniture. With all these accessories, you can now fully enjoy your custom concrete fire pits.