Board Form Concrete Tile
You can make your interiors or any area in your home look stylish with the use of board form concrete tiles or panels. These decorative concrete materials are now becoming a popular choice among property owners and designers across the country. Aside from the unique appeal that it creates on a particular surface or area, the tile is proven durable and long-lasting.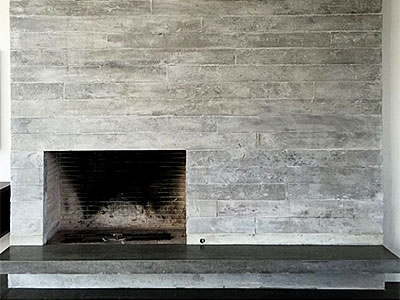 What is a Board Form Concrete Tile?
The process used in creating board form concrete tiles is based on an old construction technique. In the past, the board forming technique was extensively used on poured concrete walls. It was then replaced by aluminum and plywood forms for cost-efficiency and faster completion of the concrete structure. Today, most architects and designers adopt this technique not to build stand alone structures but for aesthetic purposes. The board form concrete tile offers a very distinct appeal because of the natural wood grain imprinted on its surface.


Board Form Concrete Tile Applications
The great thing about board form concrete tiles is that they can be used on interior and exterior surfaces. A lot of architects and home remodeling contractors use them on horizontal, vertical, and even overhead applications. This decorative material can transform a drab looking wall or floor into a unique but stunning work of art. Board form concrete is also extensively used on fire features such as fireplaces and fire pits. This is likewise highly recommended for bathroom and kitchen areas. You can boost the aesthetic appeal of your kitchen by using it as a backsplash material. It is also great for outdoor sitting areas and walls. The board form concrete tile is becoming a popular decorative material for those in the commercial remodeling industry. They are typically used on feature walls or as an accent to highlight certain areas in a commercial property.


Custom Designs and More
Board form concrete tile is a versatile construction material since it can be installed on almost any surface. Installation is also easy because of its lightweight design. There is no question about its durability since it is made from the finest materials and molded in a controlled environment with state-of-the-art facilities. Property owners can also request for custom sizes and designs. Most manufacturers can produce custom finishes following their client's preferred wood patterns. These are just some of the advantages of board form concrete tiles over other decorative materials.


Finding the Right Supplier and Installer
It is important to find the right board form concrete tile supplier in your area before you proceed with your remodeling project. Please take note that only a few companies know how to create this kind of concrete decorative material. You must also look for well-experienced installer to get an excellently installed board form concrete tiles. Don't look far if you're from Orange County or nearby area. Walls N Effects offers professional board form concrete tile installation in residential and commercial properties in Southern California. We even offer custom made designs for clients with specific design requirements. Call us at (714) 936-0066 for more details.